In our ongoing efforts to celebrate our GWC (Greening Wellness Community) program and initiatives, the Bigelow Green Team decided to flip the age-old "Christmas in July" concept and sponsor an Earth Week in November. The intent of this week was to engage Bigelow Tea employees by having a fun week of greening and environmentally friendly activities and events. We began work back in September, creating a theme for each day, and then we began to fill in the details. Each day had a project leader and a raffle prize associated with it. The days and their events were the following:
On Monday, November 11, 2013 we launched our Used Coat Drive where we collected gently used coats, hats and mittens for the Bridgeport Rescue Mission. Anyone who donated was eligible for a $50 gift certificate at the Burlington Coat Factory.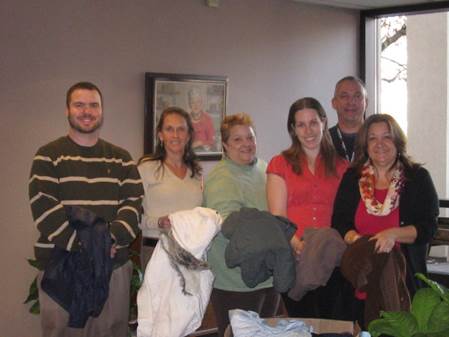 On Tuesday November 12, 2013 we held a "Made in Connecticut Holiday Fair" where 10 vendors came to Bigelow and sold their products—all of which were made in Connecticut. All employees who shopped were given a reusable Bigelow Tea tote bag and were eligible for a number of gift baskets as donated by the various vendors.
On Wednesday November 13, 2013 we held a "Grow Your Garden Indoor Day" on site and held a seminar on the best way to bring your garden indoors. All participants were entered into a raffle to win an indoor terrain.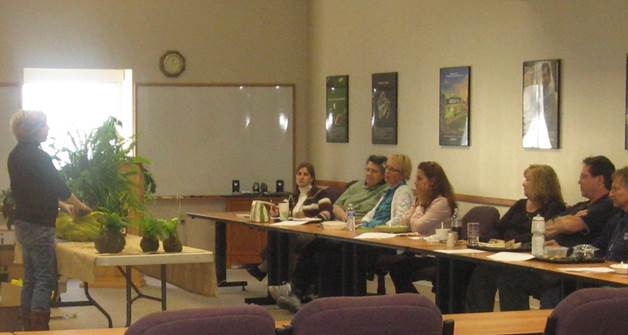 On Thursday November 14, 2013 we conducted a "Trash to Ornament Contest" where employees were asked to make ornaments out of trash or those products that are recycled. We put up our Christmas tree early this year and all ornaments were hung. Participants were eligible for a raffle prize of a $50 gift certificate at Jones Family Tree Farm.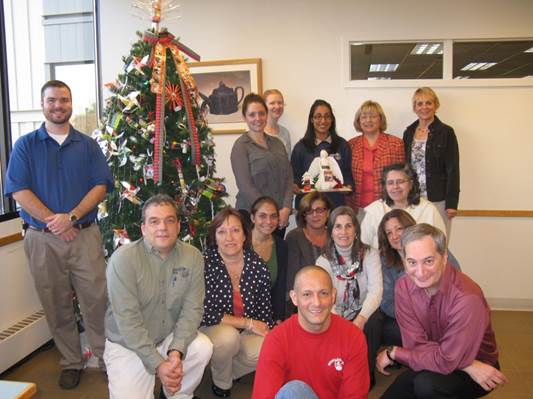 On Friday November 15, 2013 we held an America Recycles Day event. All employees who signed an "I will recycle" pledge card were given a reusable water bottle complete with Bigelow Tea logo. All those who signed the pledge were also entered into a raffle to win a reusable solar panel designed to charge electronic devices via the sun's natural power.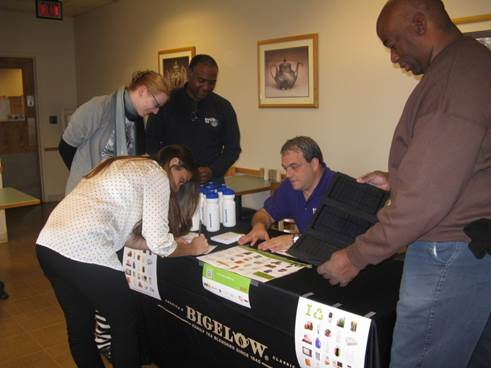 As it was a companywide event, Bigelow Tea's other plants in Boise, Idaho and Louisville, Kentucky also participated. While they held they similar events, there were also a few different events.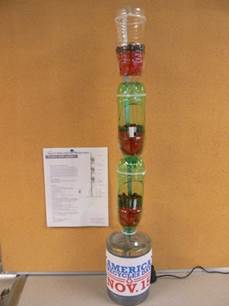 In our Boise and Louisville plants, they also showed recycling educational videos that highlighted such topics as what happens to a water bottle that is not recycled or what happens to a used cigarette butt that is thrown on the ground.
Our Boise plant conducted an event centered on "How to Build a Hydroponic Farm." During this day, the Boise plant actually conducted and held an exercise on how to build a working and functioning hydroponic water farm.
All of this was part of Bigelow Tea's ongoing commitment to our GWC (Greening Wellness Community) program and initiatives. It was a fun week and successful week. One employee was heard saying, "this is the most fun that I have had at work … ever."
Jim Gildea
Connecticut Plant Manager
Bigelow Tea