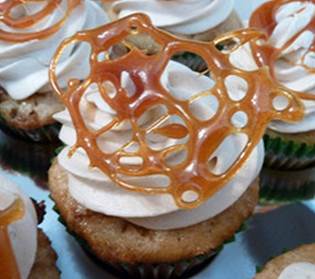 Halloween is coming soon … and since it's also National Caramel Month, our mouth is watering for the rich, buttery flavor of caramel. At Bigelow Tea we love this candy confection and think it's the perfect fall flavor to blend with teas. One of our favorite blends is our special Carmel Chai Tea, which happens to be part of the prizes package being given away in our October Bigelow Chai Teas Sweepstakes! Head over to Facebook to enter!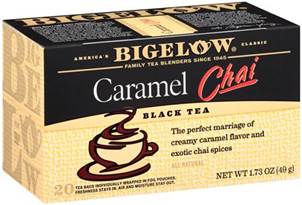 And, if you're looking to satisfy that Halloween season sweet tooth, try one of these recipes made with Bigelow Vanilla Caramel Tea: our yummy Caramel Glazed Coffee Cake and our Vanilla Caramel Tea-licious Ice Cream Sandwiches! Whichever recipe you choose to make, it will be the best "treat" of this Halloween season!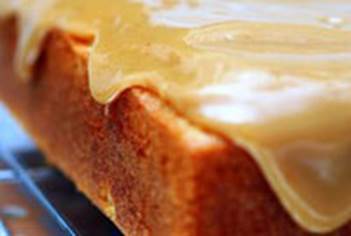 Ingredients:
1 ½ cups (350mL) all-purpose flour
1 ½ teaspoons (7mL) baking powder
¾ teaspoon (3mL) salt
1/3 cup (80mL) butter
1 cup (250mL) sugar
2 eggs
1 cup (250mL) Sour Cream (Do not substitute with Light)
½ teaspoon (2mL) baking soda
Vanilla Caramel Glaze:
½ cup (120mL) boiling water
6 Bigelow® Vanilla Caramel Tea Bags
½ cup (125mL) brown sugar
¼ cup (60mL) butter
Dash of salt
1 cup (250mL) powdered sugar
Yield: Serves 10-12. Prep Time:20 min. Cook Time:50-60 min.
Instructions:
Coffee Cake:
Combine flour, baking powder and salt together in a medium bowl. Cream butter and sugar gradually, beating well. Add eggs and beat well. Combine baking soda with sour cream and add to batter alternatively with dry ingredients, blending well.
Pour batter into a greased and floured 9″ (22.5cm) square cake pan.
Bake in a 325º oven for 50-60 minutes.
Vanilla Caramel Glaze:
Place Bigelow® Vanilla Caramel tea bags in measuring cup, pour boiling water over and let steep for 10 minutes. Remove tea bags, squeeze out excess water to make ¼ cup (60mL) tea.
In a medium saucepan, combine brown sugar, butter, tea and salt. Bring to boil, stirring constantly. Cool slightly and whisk in ½ to ¾ cup of powdered sugar until a glaze is achieved.
Poke cooled cake with a skewer, pour glaze over cake. Let sit until glaze is absorbed and has hardened on the cake.
Vanilla Caramel Tea-licious Ice Cream Sandwiches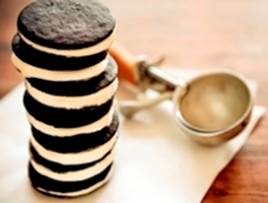 Ingredients:
1 ¾ cups (409mL) whole milk
6 Bigelow® Vanilla Caramel Tea Bags*
2 cups (500mL) heavy cream
2 eggs, beaten
2/3 cup (160mL) sugar
48 chocolate or vanilla wafers – 2 ½ inches in diameter
Yield: Makes 1 quart (1L) = 24 ice cream sandwiches
Instructions:
Requires Ice Cream Maker.
In a small saucepan, combine ½ cup milk (reserve remaining milk for later use) and 6 Vanilla Caramel tea bags over medium heat until bubbles are visible. Remove from heat and let steep for 6 minutes. Squeeze tea bags, remove and discard.
In a small mixing bowl, beat the eggs, add the tea/milk mixture, remaining milk, cream and sugar. Pour back into sauce pan and heat over low heat until the custard thickens but does not boil. Remove from heat and strain; chill.
Pour into ice cream maker and follow manufacturer instructions. Place in a plastic container and store in freezer until ready to make sandwiches.
To make sandwich:
Let ice cream soften slightly, then place a small scoop on flat side of cookie, top with another cookie and press gently. If desired, roll the sides of the sandwiches through rainbow or chocolate sprinkles to coat ice cream. Freeze on a baking sheet for 1 hour; wrap each sandwich in plastic. They will keep in freezer for up to one week.
Prep Time: 15 minutes – Cook Time: 45 minutes.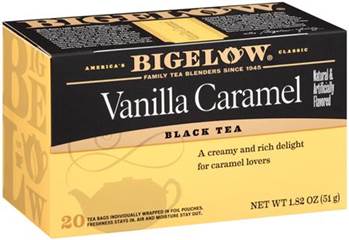 Top Image by tawest64 via Flickr.com