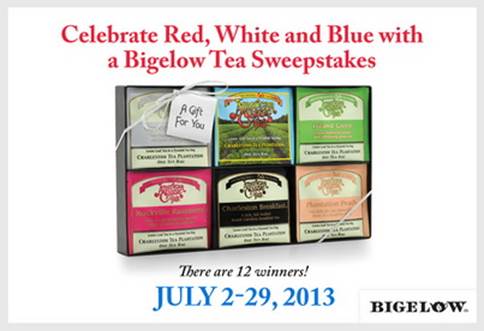 Don't let July slip by without entering the latest Bigelow Tea sweepstakes! You must enter by today, July 29, for your chance to win an American Classic Tea Sampler featuring 18 full leaf teas grown and produced at our own Charleston Tea Plantation. Throughout July we're celebrating all things made in the USA, and 12 lucky winners will get this homegrown tea assortment!
American Classic Teas come with a colorful history that combines the tea traditions and knowledge of two venerable tea enterprises. The Bigelow family, which has been blending teas for nearly 70 years, formed a partnership with Charleston Tea Plantation in 2003 to help save the 127 acres of tea plants from real estate development – and to preserve this American treasure for future generations of tea lovers. More than 220,000 visitors have toured the tea garden since 2006. We are immensely proud and honored to bring you the teas grown in our garden!
Your American Classic Tea Sampler includes six tea varieties – three of each flavor:
Rockville Raspberry Tea
Governor Gray Tea
American Classic Tea
Island Green Tea
Charleston Breakfast Tea
Plantation Peach Tea
To enter, "like" our Facebook page, and click on the sweepstakes icon at the top of the page under our cover photo. Look for the names of the 12 lucky winners on our Bigelow Tea blog. Enter today! Good luck to our all-American tea fans!