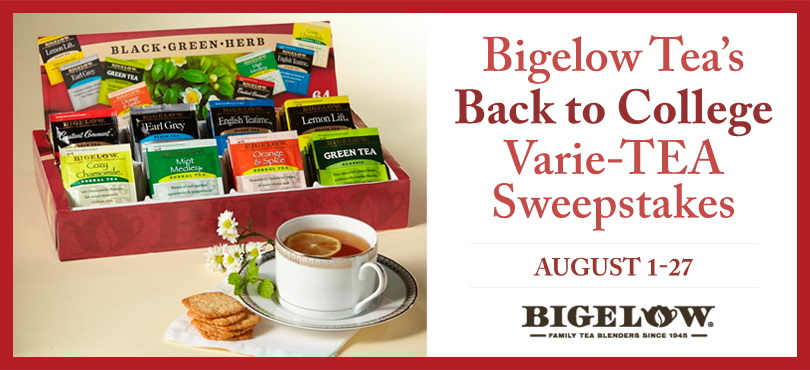 Have you entered the Bigelow Tea Back to College Varie-Tea Sweepstakes yet? Hurry, there's still time to check that off your to-do list! Enter by midnight EST tonight via Facebook or via this link if on your cell phone or iPad and you could be one of the 24 lucky winners of this Fine Tea & Herb Tea Assortment with 64 tea bags in all!
Whether you're an incoming freshman or rising senior, tea is an ideal campus companion. Check out this #tb video featuring Bigelow Tea President and CEO Cindi Bigelow visiting her alma mater, Boston College:
Back in 2009 she talked tea with the students. As she explains in the clip, tea contains L-theanine, an amino acid that combines with the caffeine in tea to stimulate the mind while relaxing the body. That means it will help you stay up late to study without the jittery effects of coffee. Awesome, right? And the herbal and decaf varieties are great picks for those times when you prefer no caffeine kick at all.
Your varie-TEA sampler includes eight tea bags each of Bigelow Tea "Constant Comment"®, Bigelow Tea English Teatime, Bigelow Tea Earl Grey, Bigelow Tea Lemon Lift, Bigelow Tea Mint Medley Herb Tea, Bigelow Tea Orange & Spice Herb Tea, Bigelow Tea Cozy Chamomile Herb Tea and Bigelow Green Tea. Try 'em all, depending on your mood, and share with your friends! Check the Bigelow Tea blog to see if you're one of the 24 lucky winners!