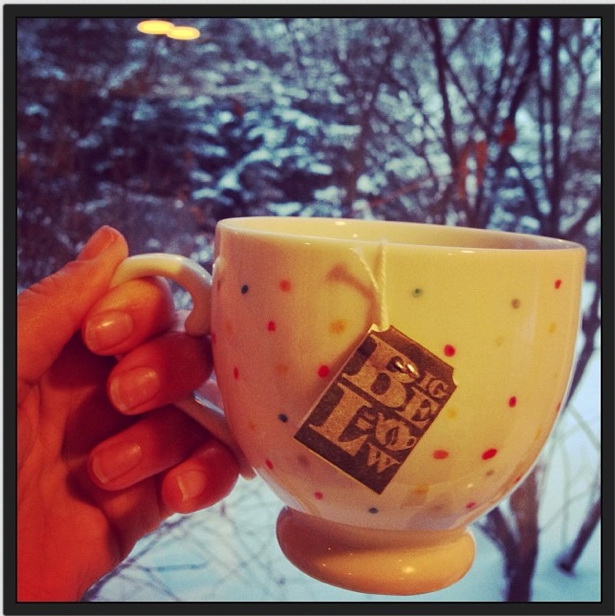 Hey, it's snowing and everyone wants to talk, tweet and text about it! Yep, whenever Bigelow Tea posts something about the snowy weather on Facebook, the response is great as everyone shares details with us! Lots of tea talk and chitchat about wearing cozies and snuggling by a fire—with tea of course. Here are some share-worthy weather-related comments from some of our worst storms of the season!
Tina Adams reported on January 28th that "In Knoxville Tennessee it is 19° with a wind chill of 9° and snow. Sitting on my couch (place of employment closed due to weather) having a cup of Bigelow Vanilla Caramel tea." Good plan, Tina.
Later that day, Shelly James noted that "It was-14 when I got up today…Earl Grey and I are in a very hot steamy relationship!" Well, well, well.
Earlier in the month, Terry Duncan shared that he "Just finished a cup of Cinnamon Stick Tea & looking out the window watching the snow come down." Beautiful image, Terry!
And back in early January Peg Ripley posted: "My Vanilla Caramel and I are cuddled up right now!!" Niice!
So whether it's warm or cold where you are, don't be shy! Post your weather-centric tea thoughts anytime!
(image from Instagram via @tarametblog)