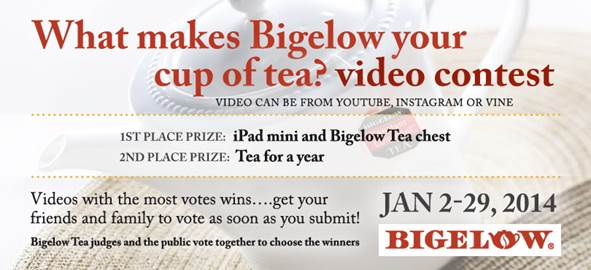 What makes Bigelow your cup of tea? Share your answer in a YouTube, Instagram or Vine video for a chance to win an Apple iPad mini and a Bigelow Tea chest! One super creative video winner will take home this fantastic 1stplace prize and a 2nd place prize will win Bigelow Tea for a whole year! There's no better way to kick off the New Year and Hot Tea Month!
For the video, express your thoughts, read a poem, sing an original song, do a Bigelow Tea dance, submit original artwork—anything goes as long as you answer what makes Bigelow your cup of tea! Then have more hot tea month fun by getting your friends to vote for your video….the top two videos with the most votes between the public and Bigelow Tea wins 1st and 2nd place prizes!
Prize details:
2nd Place Prize - Tea for a year: one winner gets to choose a year's worth of Bigelow Tea—six boxes per month totaling 120 tea bags!
To enter, "like" our Facebook page and click on the Video Contest icon under the large cover photo and follow the directions for adding your video link from Instagram, Vine or YouTube. Do it ASAP because as soon as you submit, you your friends, family and followers can start voting by clicking on the vote tab at the top of the video contest page! The video contest starts today and ends on January 29th. Check our Facebook page daily to view the latest videos and VOTE!  Winners will be announced on the Bigelow Tea blog on Jan. 31.
Good luck everyone, and have some serious fun creating your video tribute to what makes Bigelow your cup of tea!