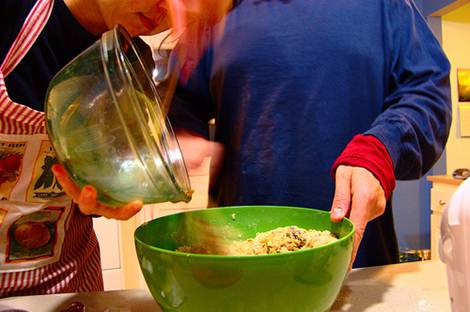 Cakes, cookies, pies – oh my, the holidays are full of delicious baked treats! While many of us look forward to these simple indulgences, they can present a minefield of health hazards for those who must avoid gluten-based flours. So it's no coincidence that Gluten-Free Baking Week falls squarely in the midst of the holiday season – December 18-24. It's a great way to help spread the word that going gluten-free need not leave any holiday revelers feeling deprived. In the spirit of the season, Bigelow Tea is happy to pass on this wonderful gluten-free cookie recipe from our files. After all, most of our teas are Gluten Free too!
Enjoy!
Pumpkin Spice Meringue Cookies With Pecans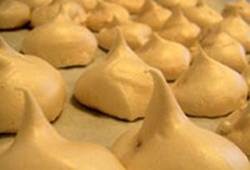 Ingredients:
¼ cup hot water
2  Bigelow® Pumpkin Spice Tea Bags
Egg whites from 2 large eggs, at room temperature
½ teaspoon Cream of Tartar
½ cup superfine sugar
¼ cup chopped pecans (or walnuts)
Parchment paper

Yield: 24 cookies

Instructions:
In a measuring cup, steep tea bags in hot water for 5 minutes. Thoroughly squeeze tea bags into cup before discarding. Allow tea to cool.
Preheat oven to 275º and place rack on middle setting. Line a large baking sheet with parchment paper.
Beat egg whites on medium-high speed with an electric mixer, until soft peaks form (about 2 minutes). Add the cream of tartar, then the sugar, a little at a time, and raise the speed of the mixer to high.
Add 1 teaspoon of the prepared tea and continue to beat on high until stiff peaks form (about 5 minutes). The mixture should be very voluminous and look like fluffy whipped cream. Don't overbeat…the mixture should look glossy, not dry.
Using a 2 oz. ice cream scoop (or 2 spoons), place rounded mounds of meringue (about 2 tablespoons per cookie) onto prepared baking sheet and sprinkle with chopped nuts. Bake for 45 minutes, until firm to the touch. Turn off oven and allow the cookies to slowly cool as the oven cools (at least another hour). They will be crisp on the outside, with a slightly soft center. When they are finished, they will release from the parchment very easily.
Cool completely on a wire rack before storing in an airtight container on the countertop.
Note: Superfine sugar is sometimes sold as "castor" or "caster" sugar and is available in the baking section in most supermarkets. You can make your own superfine sugar by processing regular granulated sugar in a food processor for approximately 30 seconds.
Note: High humidity can sometimes affect the results of this recipe. Dry days are best to make meringues.
Variations:
Mint Medley Meringues: Substitute Mint Medley Herb Tea for the Pumpkin Spice, and substitute crushed peppermint candies (or candy canes) for the pecans.
Ginger Spice Meringues: Substitute Ginger Snappish Herb Tea for the Pumpkin Spice, and finely chopped crystallized ginger for the pecans.
*The recipes designated gluten free do not include the following ingredients: wheat, rye, barley, or oats; or ingredients that might contain these, but Bigelow Tea does not assume liability for information reported on our recipes.
However, anyone who needs or wants to follow a gluten free (GF) diet should check ingredients and products to ensure they are GF. (For example, sesame seeds are naturally GF, but it's always wise to check with the manufacturer to make sure that gluten was not introduced to the product during processing.)
Bigelow Tea can make no guarantees that the recipes are appropriate for your diet. Individuals should consult with their physician or other medical professional.
Photo by Sleepyneko via Flickr.com