Monday, December 17th, 2012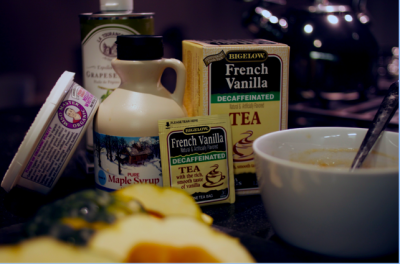 It's Gluten Free Baking Week, and that means it's time to try some new recipes that just might turn into holiday staples. At Bigelow Tea we love creating food made with tea, and we've got a whole bunch of recipes that are gluten free. So let's take a few minutes, preheat the oven, and bake up a tasty morsel!
Though we all love a good cake or a warm batch of cookies—especially when served with a cup of Bigelow Tea!—baking isn't just about sweets. That's why we wanted to share with you this new recipe, courtesy of Greta Eagan, for Maple & Miso Glazed Squash.
Greta is our December "Fan of the Month."  She's an eco-fashion expert, a tea lover, and she lives a gluten-free lifestyle full of veggies and whole foods … and her favorite Bigelow English Breakfast tea! We were so excited when Greta shared her baked squash recipe, particularly because it includes Bigelow French Vanilla Decaf Tea as an ingredient!
Give it a whirl during Gluten Free Baking week … we think you and your family will find it delightfully tas-TEA! Enjoy!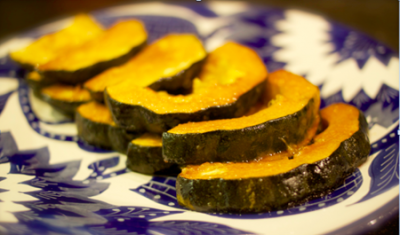 Ingredients:
6 tablespoons grape seed oil for glaze (use additional oil for baking sheets)
3 acorn squashes (about 1 1/2 pounds each), halved, seeded, and sliced into one-inch-thick crescents
2 tablespoons mellow white miso paste
2 tablespoons pure maple syrup
1/2 cup Bigelow Decaffeinated French Vanilla Tea (1 tea bag steeped for 5 minutes)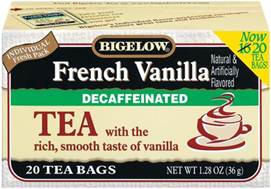 Instructions: 
Preheat oven to 400 degrees. Line two rimmed baking sheets with aluminum foil, and brush with oil.
Boil water for a cup of tea. Pour about 1/2 cup hot water over the tea bag, cover and let steep for five minute. Mix up maple miso glaze by adding miso, maple syrup and grape seed oil, then gradually add the concentrated tea and mix until miso dissolves (use 1/4- 1/2 cup of tea). Try to avoid making your mixture too watery.
Lay squash pieces on baking sheets. Drizzle maple miso glaze over each crescent (reserve half the mixture for the other side). Roast about 5 minutes.
Remove baking sheets from oven. Using tongs, turn over pieces. Drizzle once more with glaze mixture. Roast until tender, about 20 minutes.