Monday, July 23rd, 2012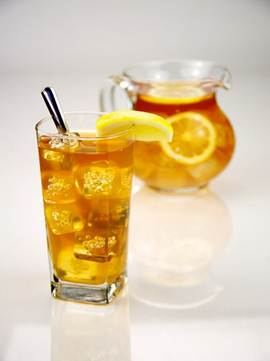 At Bigelow Tea we love to bring together great tastes, and we have a treasure trove of inspired teas as evidence. We also love taking it a step further when we blend two of our distinctive teas together to make something even better! Recently, when we announced our June sweepstakes, we showcased a new Cindi Bigelow video—a super cool piece featuring some brisk Bigelow Tea iced tea combos. We asked Bigelow Tea Fans to enter the sweeps and also to vote for one of the four iced tea combinations featured in that video … and you responded by the thousands! So now we'd like to share the results of that thirst-quenching vote. The results are interesting … and we're getting thirsty just looking them over!
Here are the tasty results:
1st place: I Love Lemon Herb Tea and English Teatime – 2434 votes
2nd place: Perfect Peach Herb and Pomegranate Pizzazz Herb Tea – 2264 votes
3rd place: Green Tea and Wild Blueberry Acai Herb Plus – 2210 votes
4th place: Pomegranate Pizzazz Herb Tea and Green Tea with Pomegranate – 1488 votes
What came through loud and clear is that you love all these great iced tea blends!  So put your hands together for these Bigelow Tea flavor hybrids … and for any others you come up with. It bears out the old adage: the whole can be even greater than the sum of its parts. With so many more fantastic combinations out there, we hope there's no end to this tasty summer of tea!
Image via TheCulinaryGeek via flickr.com