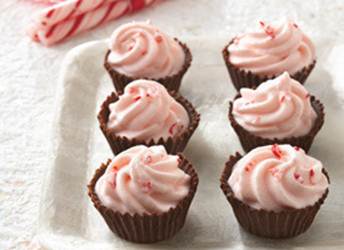 Bigelow Tea is thrilled to announce the delicious results of our Recipe Contest! Congratulations to Grand Prize Winner Diane Halferty, who garnered the most votes for her delectable White Chocolate Mint Mousse Tea Cups! Diane will receive a year's supply of her favorite Bigelow Teas (one case of 6 boxes per month) and a personalized engraved wooden tea chest filled with teas ! Great job Diane!
Diane's recipe was among the 15 chosen by Bigelow Tea as a contest finalist based on originality as well as creative use of brewed Bigelow Tea. Then it was up to you – the public! – and our three highly discerning guest judges to vote for the ultimate Bigelow Tea-inspired recipe. Thank you to everyone who voted on Facebook and our contest landing page – and to all those who submitted such wonderful recipes. Bigelow Tea fans are truly creative … no surprise to us! Stay tuned to our blog for more information about Diane and how she developed her winning recipe.  We all want the secret to her chocolate molds, right?
For more ways to enhance your cooking with tea, check out our Bigelow Tea recipe file. And try whipping up Diane's yummy dessert this holiday season!
White Chocolate Mint Mousse Tea Cups
Ingredients:
1-1/2 cups bittersweet or semisweet chocolate chips
6 ounces white chocolate baking chips
2 cups whipping cream, divided
6 Bigelow Tea Plantation Mint or Mint Medley tea bags
3 large egg yolks
Scant ½ cup granulated sugar
1/8 teaspoon salt
1 teaspoon pure vanilla extract
2 drops red food color
2 tablespoons crushed candy canes (about 6 miniature candy canes)
Yield: 24 mini cups 

Instructions:
Line 24 mini muffin cups with petit four paper cups. In 1-quart saucepan, melt bittersweet or semisweet chocolate chips over low heat, stirring frequently. Spoon about 2 teaspoons of the chocolate into each paper cup. With back of small measuring spoon, spread chocolate up sides to within 1/8 inch of the top. Chocolate should be warm enough to spread. Refrigerate about 20 minutes or until completely set.
Carefully remove paper cups from chocolate cups.
Meanwhile, melt the white chocolate chips in a double boiler over simmering water. Heat ¾ cup of the whipping cream and the tea bags in a saucepan just until it begins to boil. Carefully remove tea bags and squeeze excess moisture from them into the pan.
Whisk together the egg yolks, sugar and salt until pale yellow. Add the hot cream-tea mixture to the eggs, a little at a time, to temper, whisking constantly. Pour the custard into the melted chocolate while still over the double boiler and whisk until smooth. Stir in the vanilla and remove from the heat; cool mixture.
Beat 1-1/4 cups of the cream to whipped cream consistency. Whip half the cream into the tea mixture and then fold in the remaining cream.
Spoon or pipe whipped cream mixture into chocolate cups. Refrigerate until serving. Just before serving, sprinkle with candy.