Friday, November 29th, 2013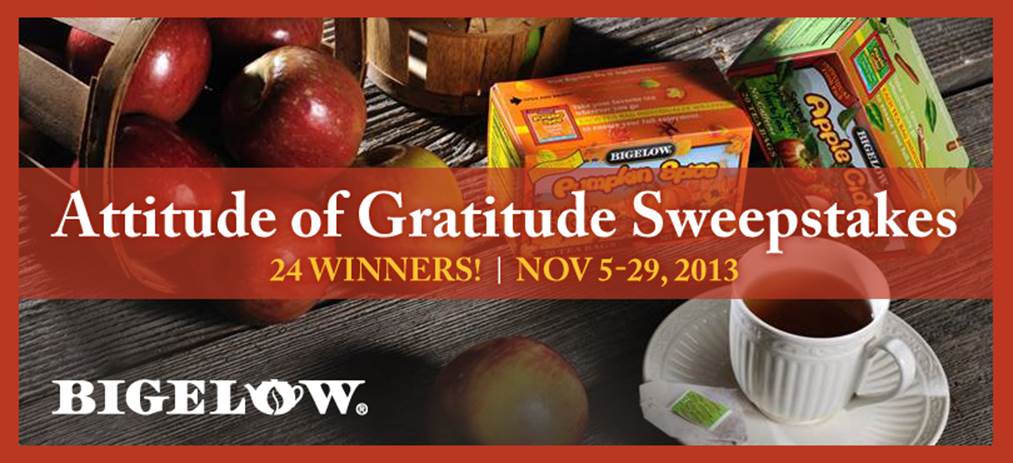 Today's your last opportunity to enter the "Attitude of Gratitude" Bigelow Tea Sweepstakes for your chance to win our amazing harvest teas! Enter on our Facebook page by midnight EST and you could be one of 24 lucky winners! Simply "like" our page (if you haven't already!) and click on the sweepstakes icon under the large cover photo. Look for the names of the winners on our blog.
We are incredibly grateful for our many loyal Bigelow Tea fans, and are delighted to join in the spirit of Thanksgiving by offering this sweepstakes. The 24 lucky prize winners will receive one box each of our Pumpkin Spice Tea and Apple Cider Herb Tea, both of which feature fall flavors like cinnamon, cloves and licorice root. Delicious … and the aroma? Heavenly!
Enter the sweepstakes TODAY … and take a minute to tell us what you're most grateful for this Thanksgiving season. Add a few words in the form or we'd love to hear from you in the Comments section below, on Facebook or via Twitter.
All of us at Bigelow Tea hope that your Thanksgiving was a joyous occasion, filled with wonderful food, family, friends and lots of laughter!