Tuesday, March 13th, 2012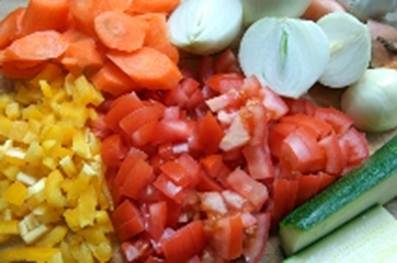 Since March is National Nutrition Month and at Bigelow Tea we're inspired to help "get your plate in shape" with healthier eating! The Academy of Nutrition and Dietetics recommends filling half your plate with fruits and vegetables – a strategy that instantly adds color, vitamins, minerals and fiber to your diet.
We know … slicing and dicing produce sometimes can feel like a chore, but try reviving your recipe repertoire with this delicious salad – then enhance it with one of these three Bigelow Tea herb tea-infused dressings. Try 'em all to find your fave!
Ingredients:
½-1 cup each:
Cucumber (scoop out seeds) diced
Tomatoes (scoop out seeds) diced
Green yellow and red peppers diced
Carrots diced
Zucchini diced
3 tablespoons scallions diced
3 tablespoons fresh dill
2 tablespoons fresh parsley
½ cup of fresh lemon juice
1 tablespoon lemon zest
Yield: 4-6 servings
Prep Time: 15 minutes
Cook Time: N/A
Instructions:
Cut up all veggies and place in a bowl. Mix. Add dill, parsley, lemon juice and lemon zest.
Dress with any Bigelow Tea Vinaigrette.

Lemon Ginger Herb Plus Salad Dressing
Ingredients:
8 Bigelow® Lemon Ginger  Herb Plus Tea Bags
1 cup boiling water
2 tablespoons extra-virgin olive oil
2 tablespoons white wine vinegar
1 tablespoon honey
¼ cup fresh lemon juice
2 teaspoons minced shallot
2 teaspoons fresh mint chopped
Dash of salt
Yield: 6 servings
Prep Time: 15 minutes
Cook Time: N/A
Instructions:
Place Bigelow® Lemon Ginger Herb Plus tea bags into a measuring cup, pour boiling water over tea bags and let steep 15 minutes. Squeeze liquid out of tea bags and discard tea bags. Chill. Whisk together chilled tea, shallots, mint and honey. Then add the vinegar, lemon juice and salt. Whisk into mixture. Lastly, whisk the oil into the mixture. This dressing can be used for a garden salad, drizzled on fresh tomatoes with basil or cucumbers and fresh mint.
Ingredients:
1/2 cup white wine vinegar
6 Bigelow Herb Plus Wild Blueberry Acai Tea Bags
1 tablespoon honey
2 tablespoon Dijon Mustard
1 small clove garlic
1 cup vegetable oil
1 teaspoon salt
A pinch of black pepper
*Optional – tarragon, fresh, chopped or dried
Yield: 1 1/3 cups of dressing
Instructions:
Pour the vinegar into a small microwave-safe bowl, and cook on high for 1 minute, or cook in a saucepan on medium heat, until bubbles are visible. Remove, add the teabags, and steep for 5 minutes. Remove the teabags to a small strainer and, using the back of a spoon, press as much liquid as possible back into the bowl. Stir in the honey and mustard, then pour the mixture into an electric blender or a food processor. Add garlic and salt. Slowly drizzle the oil while the machine is running until it is smooth and creamy. Cover and refrigerate if not using right away.

Ingredients:
6 Bigelow Red Raspberry Herb Tea Bags
1/2 cup of boiling water
2 tablespoons minced onions
1 teaspoon salt
2 tablespoons rice vinegar
2 teaspoons sugar
1 garlic clove, minced
1/2 cup olive oil or extra virgin olive oil
Instructions:
Steep 6 tea bags in 1/2 cup of water for 10 minutes; after the tea bags have been removed, yield will be about 1/4 cup of Red Raspberry® Herb Tea. Saute minced onions and minced garlic in 1/2 of the oil until translucent in color. Add tea, vinegar, salt and sugar. Simmer for about 2 minutes, whisking constantly. Remove from heat. Add the remaining oil, whisk vigorously until emulsified. Transfer into a bottle and shake it up before using.
For a more intense raspberry flavor, replace the rice vinegar with Raspberry vinegar.