Tuesday, September 27th, 2011
Join Bigelow Tea this September, as we bid a fond farewell to the sizzling days of Summer and usher in the colorful and cool season of autumn! What better way to celebrate than with some mouthwatering roasted chops (pork chops that is!) some tasty plantains, and our very own antioxidant-packed Bigelow Pomegranate Pizzazz Tea®!
Bon appétit!
Roasted Pork Chops Pomegranate Pizzazz ® over Mashed Plantains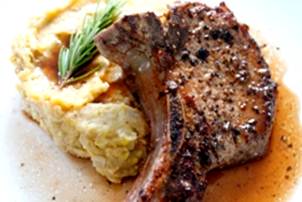 Ingredients:
4 cups of water
¼ cup kosher salt
2 tablespoons honey
3 garlic cloves, mashed
3 sprigs of rosemary
1 tablespoon peppercorns
10 Bigelow Pomegranate Pizzazz® teabags
4 (¾ inch thick) rib pork chops 8-10 ounces each (about 2 pounds total)
1 cup of boiling water
½ cup orange juice
2 tablespoons brown sugar
Olive oil
4 large yellow plantains, rinsed and sliced into 2-inch chunks with peel on
1 tablespoon canola oil
3 garlic cloves, minced
2 large shallots, diced (about ½ cup)
Salt and pepper
Yield:   Serves 4
Instructions:
Combine water, salt, honey, garlic, rosemary and peppercorns in a large pot, cover and bring to a fast boil. Remove from heat. Add 5 Bigelow Pomegranate Pizzazz® teabags. Steep 20 minutes. Remove teabags from brine, extracting as much liquid as possible. Allow to cool and chill until ready to use. The brine should be completely cold before adding the pork chops.
Combine pork chops and brine solution in a large plastic bag, Chops should be completely submerged. Place the sealed bag in a large glass bowl or container and refrigerate, at least 2 hours or up to 4 hours.
Plantains Directions:
Put plantains in a heavy saucepan with enough cold water to cover. Bring to a rolling boil. Lower to medium heat and simmer covered until the plantains are tender and peeking out of the peel, about 20 minutes. Drain plantains, reserving cooking liquid. When cool enough to handle, peel and mash the plantains until smooth, adding cooking liquid as needed. Set aside.
Remove the pork chops from the brine, rinse and pat dry. Discard brine solution. Heat the olive oil in a large skillet over medium-high heat until shimmering but not smoking. Working in two batches, carefully add pork chops to skillet and brown, about 3 minutes on each side. Transfer seared pork chops to a baking pan and set aside.
Preheat oven to 400 degrees
Add 5 Bigelow Pomegranate Pizzazz® teabags to boiled water. Steep 5-8 minutes. Remove teabags, extracting as much liquid as possible. Add brewed tea, orange juice and brown sugar to the skillet and simmer until reduced by about half. Pour sauce over pork chops and place the baking pan in preheated oven. Roast until an instant-read thermometer inserted horizontally registers 150°F, 7-9 minutes. Remove from oven and allow to rest 5 minutes before cutting.
While the pork chops roast, wipe the skillet clean and heat the canola oil in a large skillet over medium heat. Add the shallots and garlic and sauté about 3 minutes. Add the plantains and sauté until heated through. Add salt and pepper to taste.
Serve the pork chops over the mashed plantains. Pour sauce over pork and garnish with a sprig of rosemary.