Friday, July 1st, 2011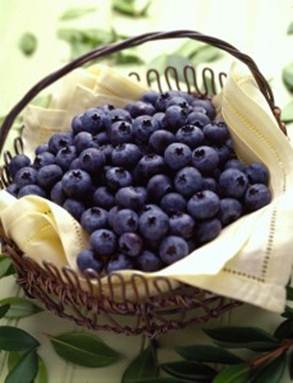 At Bigelow Tea, we keep away any summertime blues with blueberry mania!  Blueberries are tasty, lovely to look at, extremely nutritious, and they can be used as a key ingredient in so many different foods and libations – like tea!
July is National Blueberry Month, and we thought we'd share with you our love of this little blue fruit! If you like to garden, maybe you'll want to try your hand at planting your very own blueberry bush! If that's a bit too much effort, we hope you'll give one of these two blueberry-inspired recipes a try.  First, taste our refreshing Fabulous Melon and Blueberry Fruit Salad and then sample some thirst-quenching Pomegranate Blueberry Iced Tea. Enjoy!
Fabulous Melon and Blueberry Fruit Salad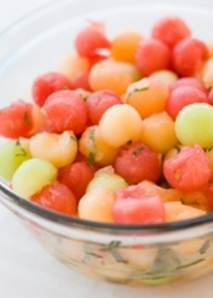 Ingredients:
6 Bigelow Blueberry Acai Herb Plus Tea Bags
½ cup water
4 tablespoons lime juice
3 teaspoons sugar
1 pint blueberries
1 cup honeydew melon balls
1 cup cantaloupe melon balls
1 cup watermelon balls
Mint leaves for garnish
Yield: Serves  4
Instructions:
Add lime juice, water, sugar and Blueberry Acai Herb Plus Tea Bags to a saucepan; simmer  10 minutes, to infuse flavor.  Squeeze, to extract as much liquid as possible, then remove teabags.  Cool.
Add fruit to large attractive bowl, pour syrup over fruit, toss gently.  Garnish with mint leaves.
You can use any assortment of fresh fruits, depending on what is in season.
Add a different flavor sensation by substituting one of Bigelow's Herb teas such as Red Raspberry or Pomegranate Pizzazz .
Pomegranate Blueberry Iced Tea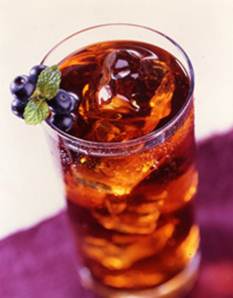 Ingredients:
1 quart boiling water
2 Bigelow Pomegranate Pizzazz Herb Tea Bags
1 Bigelow Wild Blueberry Acai Herb Plus Tea Bag
Instructions:
Bring 1 quart of water to a boil, add 2 Pomegranate Pizzazz and 1 Wild Blueberry Acai Herb Plus tea bags; steep for 10 minutes. Pour into pitcher; refrigerate until chilled. Serve in a tall glass with ice.
Sweeten to taste, if so desired.
Image (top) via Losingitandlovingit.com.