Friday, August 5th, 2011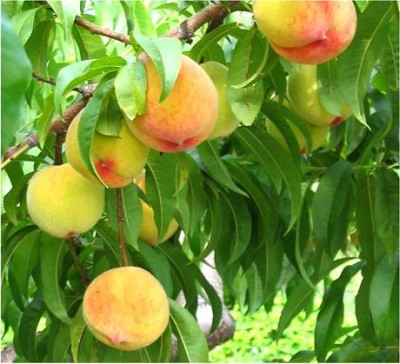 Life is indeed a peach when you enjoy your Bigelow Tea every day! And during August, which happens to be National Peach Month, everything is peachy keen. So, today we're sharing one of our delectable peach-inspired recipes. Plus, to help you beat the hot August heat, we've got a few thirst quenching peach inspired libations for you to try out. Enjoy!
Grilled Green Tea Chicken and Peaches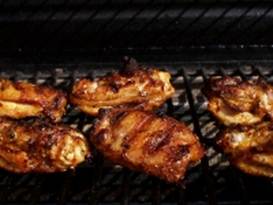 Ingredients:
1 whole chicken – cut up  (about 4-5 pounds)
¾ cup water
6 Bigelow Green Tea with Peach Tea Bags
⅓ cup honey
1 teaspoon freshly ground pepper
¼ cup extra virgin olive oil
Freshly grounded pepper and salt, to taste
4 fresh peaches, halved and pitted
Serves 4
Instructions for Marinade:
In a small saucepan over medium high heat, bring water to boil, add teabags and reduce heat;  simmer 10 minutes, reducing liquid by ¼.  Stir in honey and black pepper.
Instructions for Grilling Chicken:
Preheat grill. Rub chicken with olive oil, sprinkle lightly with salt and pepper.  Place chicken on grill, turn to medium low heat (or use "Indirect" cooking according to grill instructions) and brush with Green Tea with Peach marinade. Cover grill and cook chicken 15 minutes, brush again with marinade, and cook for another 15 minutes; turn over and brush with marinade and continue cooking for another 20 minutes. Check chicken with a meat thermometer (should read 140-150°F). Remove from heat.
Brush peaches with marinade and place cut side down on grill. Grill for 3-4 minutes. Turn, brush with marinade and grill for another 3-4 minutes.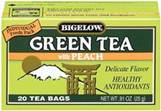 (the kids will love this!)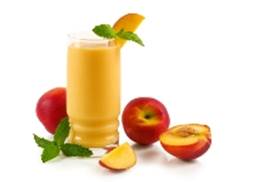 Ingredients:
6 Bigelow Perfect Peach Bigelow Herb Tea Bags
¾ cup boiling water
1 ½ cups light fat free peach yogurt
1 cup fresh peaches
1 cup frozen peaches
2 teaspoons of honey
Serves 4

Instructions:
Combine boiling water and tea bags.  Allow to steep for ten minutes, discard the tea bags.
Chill tea in the refrigerator.  In a blender combine yogurt, fresh and frozen peaches, honey and chilled tea. Blend until smooth.   Top with a mint leaf and enjoy!
(Iced Bigelow Tea and peaches: a refreshing combination for summer!)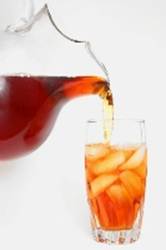 Ingredients:
1½ cups cold water
3 Bigelow Perfect Peach Herbal Tea Bags
3 Bigelow Spiced Chai Tea Bags
7 cups of cold water

Instructions:
Recipe created by Dorinda of Covington GA
3rd place winner 2007 Iced Tea Recipe Contest
Place 1½ cups boiling water over tea bags in a 4-cup glass measuring cup. Let steep for 10 minutes. Squeeze and remove tea bags, let the concentrated tea cool.
Pour concentrate into a 3-quart pitcher. Add the cold water and stir. Pour into ice-filled glasses and serve.
Image (top) via Meadorchards.com.