Tuesday, May 17th, 2011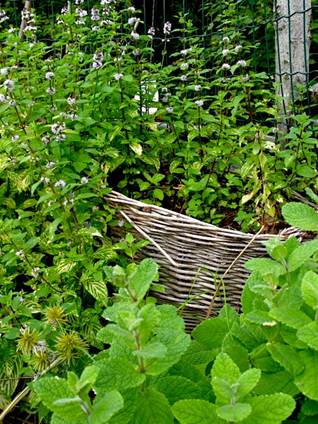 At Bigelow Tea, we love our mint! We've created a variety of refreshing mint teas to quench your thirst as well as some wonderfully savory (and sweet) mint-infused recipes to delight your palate. Two minty dinner selections in particular really hit the spot:  our simply awesome Medley Tabouleh Salad with Feta, Cucumber and Olives and our Lamb Chops with Plantation Mint Gravy. Delicious, and oh-so-minty!
Medley® Tabouleh Salad with Feta, Cucumber and Olives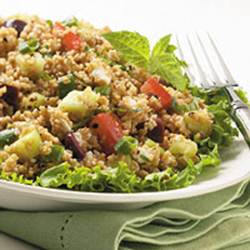 Ingredients:
o   6 Bigelow Mint Medley Herb Tea Bags*
o   ¾ cups bulgur wheat (tabouleh)
o   1¼ cups boiling water
o   1 large tomato, split and cut into ¼" dice
o   ½ cucumber, peeled, and cut into ¼" dice
o   ¾ – 1 cup crumbled feta cheese, about 4 ounces
o   ¼ cup thinly sliced scallions
o   ¼ cup chopped pitted Greek olives
o   1½ tablespoons extra virgin olive oil
o   1 tablespoon finely chopped fresh mint
o   ½  teaspoon salt/to taste
o   Freshly ground black pepper
Yield: Serves 4
Instructions:
o   Pour bulgur wheat into a bowl.  In a glass measuring cup, pour one cup boiling water over tea bags; steep 4-5 minutes.  Remove tea bags to a small strainer; using the back of the spoon, press as much liquid as possible back into the cup. If needed, add additional boiling water to measure 1 cup, then pour over the bulgur wheat.  Let stand until all the liquid evaporates, about 30 minutes, stirring occasionally. Put finished bulgur wheat in a salad bowl. Add tomato, cucumber, feta cheese, scallions, mint and olives, turning to mix well. Pour in the olive oil; add salt/pepper; toss again. Adjust seasonings to taste. Serve over bed of lettuce leaves.
Lamb Chops with Plantation Mint® Gravy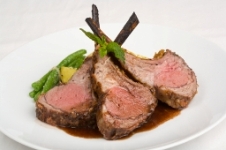 1 cup canned beef broth
6 Bigelow Plantation Mint® Tea Bags
2 tablespoons honey
1 tablespoon all-purpose flour
1 tablespoon butter, unsalted, at room temperature
6 bone-in lamb chops (about 3 lbs)
1/3 cup bread crumbs
1 tablespoon of finely chopped flat-leaf parsley
1 small clove garlic, minced
¼ teaspoon salt
¼ teaspoon freshly ground black pepper
¼ cup Dijon mustard
Yield: Serves 6

These lamb chops make an elegant meal, but are even better when served with this delicious minted gravy. The flavor comes from Bigelow Plantation Mint®, tea and a touch of honey gives it a hint of sweetness.
Preheat oven to 400ºF.
Combine the bread crumbs, parsley, garlic, salt, and pepper in a small bowl.
Using a brush, coat both sides of each chop with mustard, and press breadcrumb mixture onto chops.
Place chops on a rack on a baking sheet and bake for 25-30 minutes, or until medium-doneness is achieved.
While the chops are baking, bring beef stock to a boil in a small saucepan, turn off the heat. Add the teabags and steep for 10 minutes, making sure they are all submerged. Remove the teabags to a small strainer and using the back of a spoon, press as much liquid as possible back into the pan.
Stir in the honey and return to a boil, stirring until the honey is incorporated. In a small bowl, combine the flour and butter into a smooth paste, using a fork. Turn off heat, add the butter/flour mixture to the gravy, bit by bit, and whisk until it is incorporated and the sauce thickened.
Remove lamb chops from the oven, let stand for 3-4 minutes. Place on a serving platter and serve hot gravy on the side.
*Recipe serves 6 people—
12 loin chops = about 3 lbs (2 per person)
18 rib chops = about 3 lbs (3 per person)
6 shoulder chops = about 3 lbs (1 per person)
Serving size: 1 chop (about ½ lb total)
Calories 502
Total fat 20g
Saturated Fat 8g
Trans Fat 0g
Cholesterol 195mg
Sodium 537mg
Carbohydrates 13g
Dietary Fiber 1g
Sugars 6g
Protein 64g
Photo (top) via Swktalk.com