Wednesday, July 13th, 2011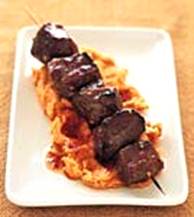 Bigelow Tea thinks July is pretty special, being both National Grilling Month and National Ice Cream Month! So grill out with a fantastic Bigelow Tea recipe, then whip up a Bigelow Tea infused Ice Cream treat for dessert!  Here's the skinny:
Our Lamb kebabs are delicious, feature  Bigelow Constant Comment®, and are perfect with whipped sweet potatoes! Then top off your night with IIce cream – it cheers us up when we're sad and it makes kids jump with glee! Our Minty Chocolate Ice Cream Float will do the job!
Dinner off the grill and ice cream – the quintessential summertime treat!
Lamb Kebabs with Mashed Sweet Potatoes
Ingredients:
6 Bigelow Constant Comment® Tea Bags
¾ cup (180mL) hot water
½ cup (125mL) honey
2 tsp. (10mL) cumin
½ tsp. (2.5mL) ground cloves
20 – 1½ inch (4.5cm) cubes boneless leg of lamb
3 medium sweet potatoes
4 metal or wooden skewers (wooden skewers must be soaked for at least 1 hour)
Dash of salt
¼ cup (60mL) butter
Yield: Serves 4 – Prep Time: 20 minutes – Cook Time: 15-20 minutes.

Instructions:
Brew Constant Comment® tea bags in ¾-cup (180mL) hot water. Remove tea bags and discard, squeezing to extract as much liquid as possible; add honey, cumin and ground cloves and mix well.
Place lamb cubes in large glass casserole and pour tea mixture over lamb. Mix well and set aside.
Pierce sweet potatoes and microwave on high until tender 10-12 minutes, turning once (time will vary according to microwave).
Meanwhile, thread 5 pieces of lamb onto each skewer. Sprinkle with a little salt and brush with marinade. Preheat broiler; broil lamb, brushing with marinade, 3-4 minutes per side or until cooked to medium.
Remove pulp from sweet potatoes and mash with butter. Keep warm on low in microwave. To serve, divide sweet potatoes into four servings, top with skewers of lamb.
And don't forget dessert!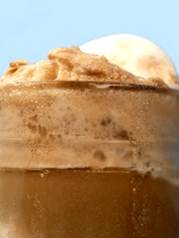 Ingredients:
6 Bigelow Plantation Mint® Teabags
6 cups water
3 tablespoons sugar
12 tablespoons chocolate syrup
1 quart chocolate chip ice cream (or mint chocolate chip)
12 tablespoons club soda
Yield: Serves 6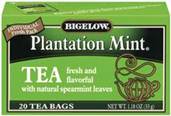 Instructions:
Place 6 cups boiling water over teabags in heat-stable container. Let steep 10 minutes. Squeeze and remove teabags; add sugar and chocolate syrup. Stir until dissolved. Allow tea to cool, then chill in refrigerator, at least ½ hour. To serve, place 1 scoop of ice cream into each glass. Add the tea mixture. Top off by adding 2 tablespoons club soda to each glass. Serve immediately.