Thursday, May 5th, 2011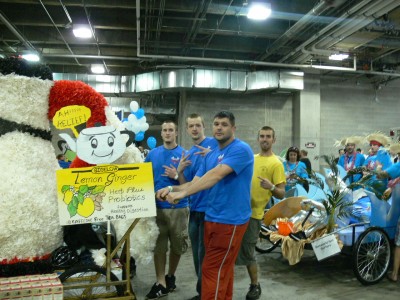 This week our bed race team enjoyed the grand honor of being selected as best decorated bed in the bed race held in the new KFC YUM center arena in downtown Louisville, KY, home to a major Bigelow production facility.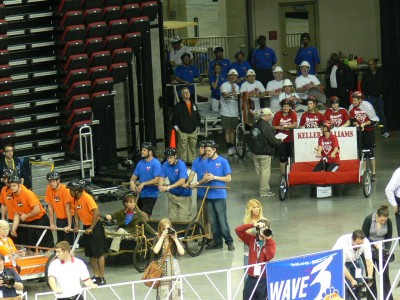 The theme for this year's race was super heroes.  Our team came up with the brilliant idea of promoting our product's antioxidant properties in developing the bed decorations.  The team made a large frame shaped like a teapot and put a cape on it.  It was highly decorated with ruffled paper including recycling scrap pieces of our teabag paper (for the white color needs).  The bed also had 4 pivoting teapot signs on each corner representing our 4 new herbal plus tea products.  Many sample teabags of our new herbal plus products were distributed to the crowds of people present for the event.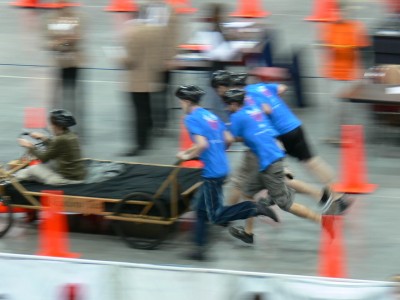 The actual bed race itself was not so successful.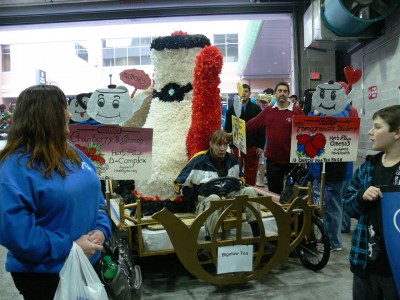 The Bigelow bed ran into some cones in the course which severely impacted the runners.  Despite this we still placed 33rd out of 42 beds entered.  We beat several teams that normally place high each year like Coca Cola, PPG paints & Knight's School of Welding (who makes the beds for many of the teams).  The event was carried on a local NBC affiliate WAVE 3 (and cable channel 441) and spots were included on several of the local news programs.  Bigelow was also listed for the award in the Louisville Courier Newspaper.  The team received a prize of a stereo system which I suspect will be raffled off among the team.  A nice trophy was also presented to the team which will be placed in our display case.
The amazing thing that came out of all of this was an invitation to show the decorated bed in the annual Kentucky Derby Pegasus Parade.  This parade is one of the top events in the entire 2 week festival (behind the Kentucky Derby horse races and the Thunder over Louisville kick-off event).  The parade route is typically lined with ~100,000 people, maybe more with the good weather that is forecast!  The event is a very popular TV event locally and will be televised live Thursday afternoon.  We will again have an opportunity to pass out sample teabags.
This is such a big deal in our goal to recognize the awesome work done by our employees.
Steve Keys
Plant Manager
Bigelow Tea