Thursday, October 18th, 2007
I'm writing today to personally thank Aaron Lawrence for helping us get Bigelow Tea into the hands of a lot more consumers.
Last month we introduced an incentive program with our natural foods broker, Advantage Sales and Marketing to help kick start our fall tea season; one man in particular has proven to us that he can sell tea.  His name is Aaron Lawrence.  As a Territory Rep. for natural food broker Advantage Sales and Marketing, Aaron is helping to make Bigelow Tea a favorite with natural food stores across the country like Whole Foods/Wild Oats.
I had the pleasure of meeting Aaron at the Natural Foods Expo last month in Baltimore.  We invited Aaron to stop by our booth and had our picture taken together along with Angie Lewis, Business Development Manager, Advantage East. That's Aaron on the left.
Aaron really enjoys selling.  He has a "natural" (no pun intended) way about him. Originally from Westbury, NY and now residing in Lauderdale by the Sea, FL, Aaron got his start in the natural food industry with Wildfire Sales.  He made the move to Advantage a year ago because he wanted to work for a larger company to gain more exposure to the natural food industry and we're glad he did!
As our way of saying thank you, Aaron  received a bonus  along with a 3 day/2 night trip to  our beautiful Bigelow Charleston Tea  Gardens in South Carolina.
Congratulations Aaron.  Given Bigelow Tea's links to healthy living, you make a perfect fit.  Keep up the great work and have a fun trip!
Cindi Bigelow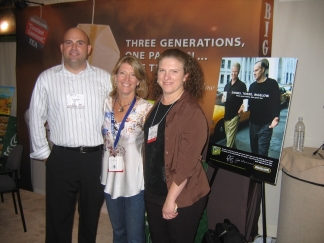 Left to Right: Aaron Lawrence: Advantage Territory Rep, Florida, Cindi Bigelow, President Bigelow Tea, and Angie Lewis, Advantage BDM, Eastern Region (Business Development Manager)