Wednesday, May 2nd, 2012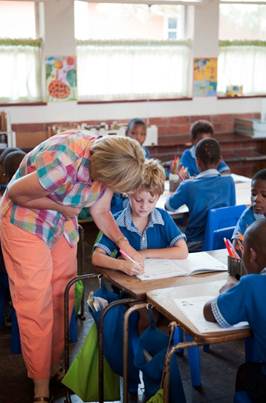 If you have children currently in school or have fond memories of your own schooldays, you know that teachers rarely get enough recognition for all the work they do. It's a tough job, and Bigelow Tea is happy to help spread the word about Teacher Appreciation Week!
From May 7 through May 11, students, parents and administrators across the country will remind their teachers how much they really do appreciate their hard work and dedication. Saying "thanks" is a simple gesture, whether it's done orally, in a note, with a flower from the garden or in the form of artwork from your child!
Of course, some schools also host Teacher Appreciation events, and we think they're even better when a little tea is served! How about a morning treat made up of fruit and whole wheat bagels in the teacher's lounge, alongside a pot of Jasmine Green Tea? It's a healthy way to start the day and the gentle scent of Jasmine is sure to please the teachers!
If you recall the days of bringing in an apple for your teacher, you might consider sending your child into school with a box of Apple Cider Herbal Tea wrapped with a nice bow! It's the thought that counts, and this is certainly a thoughtful token of appreciation that a teacher will love.
Thank you, teachers, for all you do! You have one of the most important jobs in the world, and in our hearts at Bigelow Tea, every week should be Teacher Appreciation Week!
Image by Marine Connan via Fotopedia.com