Tuesday, November 5th, 2013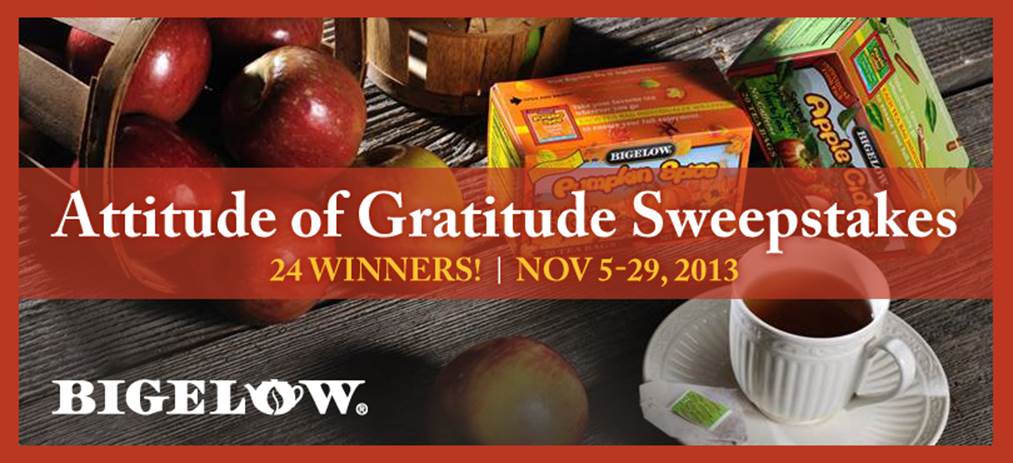 Bigelow Tea is sharing the spirit of Thanksgiving with our "Attitude of Gratitude" Sweepstakes! A total of 24 lucky winners will take home our delicious Pumpkin Spice Tea and Apple Cider Herb Tea – both brimming with irresistible autumn flavors! We invite you to enter for your chance to win … and while filling out the form, tell us in a few words what you're grateful for this year. The simple pleasure of sipping a steaming cup of tea on a crisp, fall day is certainly at the top of our list!
The winners will receive one box each of our ever-popular "harvest teas." Pumpkin Spice Tea is a masterful blend of the finest mountain-grown black teas, cinnamon, licorice root, clove, ginger and pumpkin flavor. Apple Cider Herb Tea is a caffeine-free blend of all-natural herbs and spices with the sweet taste of tree-ripened apples. Each of these teas is a soul-warming treat after a day of watching football, raking leaves or apple picking!
To enter, "like" our Bigelow Tea Facebook page and click on the green teacup sweepstakes icon under the large cover photo. Share with your friends on Facebook and Twitter to enter more often!! The sweepstakes ends on November 29th.  Look for the names of the 24 lucky winners right here on our blog. Good luck, and happy Thanksgiving to all!