Monday, November 30th, 2015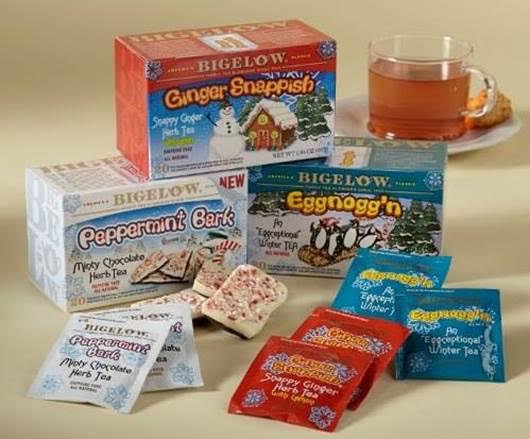 There's no better time for hot tea than the weeks leading up to the holidays. As you contemplate your cards and shopping lists, brew a cup of one of Bigelow Tea's seasonal varieties and see what happens. The aromas and tastes of peppermint, gingersnaps and even eggnog will get you into the spirit in a jiffy and put a little jingle into your day!
Like candy canes and chocolate? Then Peppermint Bark Herbal Tea is an early holiday gift you'll want to give yourself! Refreshing and indulgent, this caffeine free, all-natural tea combines the invigorating sensation and taste of real peppermint with the smooth warmth of chocolate, thanks to the addition of actual cocoa powder. It's both hot and "cool" at the same time. Add a little sweetener and give yourself a little holiday gift any time of day, all season long!
If you prefer savory sips, brew some Ginger Snappish Herbal Tea in your favorite holiday mug! This aptly named tea is both "snappy" and evokes the sensation of warm gingersnaps. Ingredients like real ginger, cinnamon, natural gingersnap and lemon peel give this caffeine free tea a whole lot of zing. It's savory, sweet and a smidge spicy. Ideal for a mid-day break from work or a bedtime cup as you write your list for the next day.
Looking for a caffeinated option? Bigelow Tea's Eggnogg'n Tea will give you that gentle boost of caffeine and offer you one of the holiday's quintessential flavors and aromas: eggnog. This all-natural tea is made with both black and green tea, making it full-bodied without being overpowering. It is smooth and miraculously full of the creamy flavor of eggnog with a touch of cinnamon. A splash of milk and a little sweetener makes it even more luscious—a great morning treat or accompaniment to your favorite holiday cookie!
With three joyous and spirited options, which Bigelow Tea holiday variety will you be sipping this season?