Tuesday, May 18th, 2010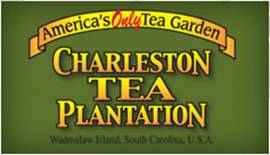 A working tea garden is not something many of us are familiar with, so we at Bigelow Tea wanted to share our newly designed web site for the Charleston Tea Plantation. Here you will discover acres and acres of beautiful tea plants, take a tour the Tea Factory, and even browse the charming Plantation Gift Shop.

Learn about America's only Tea Garden, which is representative of gracious, civilized living, just like the aroma and flavor of a hot cup of Bigelow Tea! No surprise that Bigelow Tea's plantation is in South Carolina – renowned for gracious living.

Also on our site you can learn about the trolley tour of the grounds at the Charleston Tea Plantation, with all its beauty and heritage. And for a taste of what it's all about, please feel welcome to join Cindi Bigelow on a short video tour of America's only Tea Garden, right now! (Please wait until the vehicle has come to a complete stop before leaving this page!)
[youtube]http://www.youtube.com/watch?v=2TYEBpX3efw[/youtube]
And who knows? With all information packed into this website, maybe you'll start planning a road trip this summer to the Charleston Tea Plantation, home of the delicious American Classic Teas!