Friday, May 14th, 2010
The time is now! Bigelow Tea invites you to bring the entire family to Wadmalaw Island this Sunday, May 16th from 11:00AM to 6:00PM to celebrate the beginning of the 2010 tea harvest at the Charleston Tea Plantation. All tea lovers will want to be there as the Charleston Tea Plantation and The Bridge at 105.5 present the 4th Annual First Flush FesTEAval!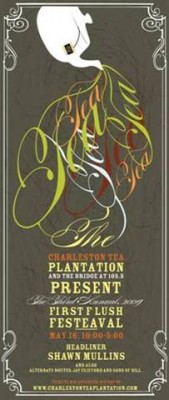 'First flush' is all about the tender, new tea leaves that are plucked in the first growing season of each year. It's a celebration of spring, a celebration of life, and a celebration of all things tea. But you can count on this unique festival to provide even more than recognizing the first harvest at our Tea Garden (the only working Tea Garden in the country). Aside from learning first-hand how our tea is produced at the plantation factory, you can also enjoy music, food, trolley rides through the picturesque fields, and simply sitting back and relaxing in the beautiful surroundings. Bring your blanket!
This year again, the music is a fantastic lineup of recording artists. Check out Robert Randolph & the Family Band, Cory Chisel, Crowfield, and Mark Bryan (multi-platinum and Grammy award winning guitarist/songwriter for Hootie & The Blowfish). All will perform along with the Chucktown Music Group, Amber Caparas, John Wesley Satterfield, and Mac Leaphart. Add all to all of that entertainment to the games and fun just for the kids, the delectable local cuisine and complimentary iced American Classic First Flush Tea served all day long, and you know there's something or everyone!
We look forward to seeing you Sunday at Wadmalaw Island! Don't miss the chance to join us in celebrating the start of American Classic tea's harvest season, and have a great day with Bigelow Tea!