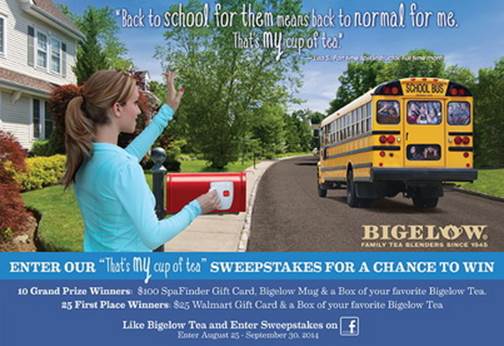 Ah, it's back-to-school season and time to savor a few quiet moments, however brief, with a mug of your favorite Bigelow Tea! Enter the "My Cup of Tea" Sweepstakes for a chance to win one of two prize packages designed to help you relax and indulge … whether or not you have kids headed back to school! Thirty-five prize winners in all!
Here are the prize details:
10 Grand Prize winners - receive a $100 SpaFinder gift card to use at a nearby spa, a Bigelow Tea mug and one box of Bigelow Tea in the variety that you pick as "your cup of tea."
25 First Place winners - receive a $25 Walmart gift card and one box of Bigelow Tea in your preferred flavor.
Enjoy your tea hot or iced, of course!
To enter, "like" the Bigelow Tea Facebook page, click on the sweepstakes icon under the large cover photo or on the side of the page, and follow the entry instructions. Be sure to share the sweepstakes on Facebook and Twitter to get more entries. You can enter once per day until the sweeps ends onSeptember 30. Using a mobile device? No sweat … use this link to enter instead:http://woobox.com/atv5hc And we would love to know what your cup of tea is so share a few words, upload a photo or both!
Check the Bigelow Tea blog to see if you're one of the 35 lucky winners. Good luck, and best wishes for a smooth transition to the 2014-2015 school year!