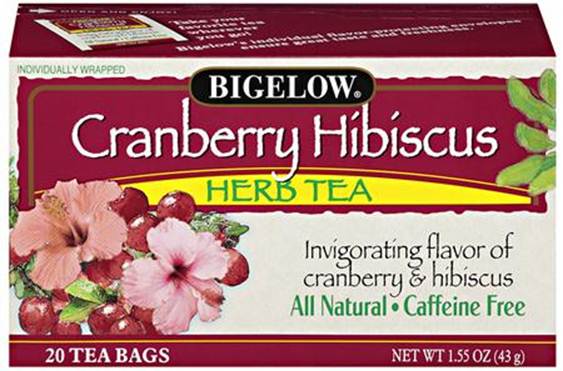 Bigelow Tea is excited to introduce Cranberry Hibiscus Herb Tea, the latest addition to our very extensive lineup of herb teas–all caffeine free and expertly blended with the finest herbs, fruits and spices!
We know there are many fans of our herbal teas, so we're always working on new flavor combinations to add to your list of favorites. And we think Cranberry Hibiscus will make it to the top of your list as soon as you give it a try! This unique blend features hibiscus, roobios, apple, cranberry fiber, cranberry seeds, natural cranberry and raspberry flavors, and other natural flavors. Cranberry lovers will appreciate the invigorating taste of cranberry tempered with just the right amount of sweetness. Another great cranberry herb blend to try is Cranberry & Ginseng Herb Plus Tea.
It's worth noting that herb teas don't contain actual tea leaves. Their appeal is rich, bright flavors that can be enjoyed anytime of day or night since there's no caffeine to interfere with your sleep. Try a cup of Cranberry Hibiscus Herb Tea with a breakfast scone or a sweet treat in the evening. Perfection!