Quietly sipping and savoring a cup of aromatic Bigelow Tea on a warm summer day is like stepping into a Zen-like state in which the pure water is the Yin and the flavorful tea is the Yang.  One complements the other.  If the water is pure, the tea experience will be delightful.  If the water quality is poor, the tea will be compromised.  It's just that simple. So, in honor of National Water Quality Month, Bigelow Tea has some Sustainabili-TEA tips to help you optimize the water quality in your home, so that every drop of water is the best (and safest) you can drink.
The problem with hard water (water with a high mineral content), is that it tastes metallic and may leave a film floating in your teacup or kettle ―making it less desirable for tea, hot or iced. Water quality not only affects our tea drinking experience, it impacts our health and the environment.
So, what to do? First, know the water quality in your house.  Next, consider  installing either  a whole-house distiller or faucet filters.  If cost is a concern, buy yourself a filtered pitcher. Then, put the kettle on and have a perfect cup of worry-free tea!  Follow @MelodyAWriter's suggestion and try some Bigelow® Plantation Mint Tea.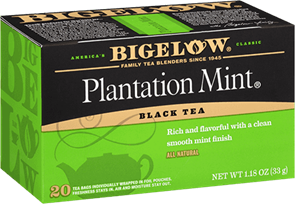 Photo by Kristina Walter via Wikimedia  Commons.