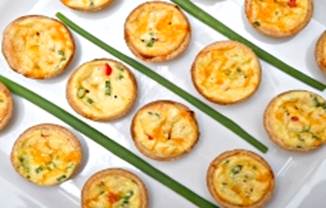 Super Bowl Sunday is nearly here, and the New York Giants are set to take on the New England Patriots. When it comes to the big game, the beverage that immediately comes to mind is … tea? OK, well maybe there are other brews consumed that day, but at Bigelow Tea we think there's also time for tea on the road to the Super Bowl – just ask Bigelow Tea Spokesman (and New York Giants Super Bowl Champion)  Phil Simms!
So, to help make your menu a winner, here are two great recipes for the big game. Our Miniature Vegetable Quiches (yep, real men do eat quiche)! And our Perfect Peach Mustard Dipping Sauce, ideal for pretzels, chicken, sausage slices or cheese chunks. Enjoy!
Ingredients:
Tea Concentrate:
10 bags Bigelow Green Tea
1 cup boiling water
Vegetable Tea Mixture:
2 tablespoons extra virgin olive oil
¾ cup diced colored bell peppers
½ cup asparagus tips/ cut into small pieces, 1/2 – 1 inch
½ cup frozen peas
1 tablespoon minced shallots
¼ cup tea concentrate
 Egg Mixture:
6 large eggs
½ cup half and half
½ teaspoon salt
¼ teaspoon freshly cracked pepper
4-ounces (1/2 of an 8-ounce) package cream cheese, slightly softened, cut into 18-20 pieces
Dill, optional garnish
Yield: Makes 18-24 miniature quiches depending on size of mini-muffin tin (About 1 ½ cups vegetable mixture.)
Prep Time: 20 minutes
Baking Time:  15 to 18 minutes
Instructions:
Place tea bags in a 2-cup glass measure.  Add water.  Steep tea for 10 minutes.
Squeeze all liquid from tea bags into cup.  Discard tea bags.  (About ½ cup tea concentrate.)
Heat oven to 350 F.  Spray 2 (12-cup) muffin tins with baking spray (spray well or alternatively use paper liners); set aside.
In 10-inch non-stick skillet place olive oil.  Heat for 1 minute.  Add peppers, asparagus, peas, and shallots. Cook over medium high heat, stirring occasionally, until slightly softened.
Add ¼ cup tea concentrate to vegetable mixture.  Continue cooking, stirring occasionally, until most of the tea is evaporated.  Remove from heat; set aside.
In large bowl stir together eggs, half and half, salt and pepper.  Mix well.
In bottom of each prepared mini muffin tin, place about 1 tablespoon vegetable mixture.  Top with piece of cream cheese.  Fill to top with egg mixture.
Repeat with remaining ingredients.
Bake for 15 to 18 minutes or until very lightly browned near edges.  Remove from oven.  Cool slightly. Garnish with dill if desired.
Perfect Peach Mustard Dipping Sauce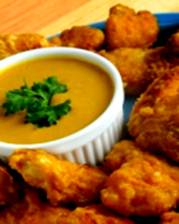 Ingredients:
½ cup water
6 Bigelow Perfect Peach® Herb Tea Bags
2 tablespoons Dijon mustard
1 ½ tablespoons honey
½ teaspoon soy sauce
½ cup vegatable oil
3-4 drops Tabasco Sauce, or to taste
Yield: Makes 2/3 cup
Instructions:
Bring the water to a boil in a small saucepan. Add the tea bags and steep for 5 minutes, making sure they are completely submerged. Remove to a small strainer and, using the back of a spoon, press as much liquid as possible back into the pan.
In a small bowl, combine the mustard, honey and soy sauce. Add the infused tea and stir until smooth. Whisk in the oil. Season to taste with Tabasco Sauce, cover and refrigerate until needed.