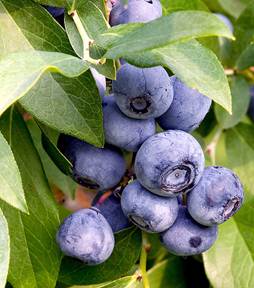 'Tis the season … for blueberries! This is the time of year when those sweet but tart blue bundles of yum ripen and are ready to be picked which his why the USDA has proclaimed that July is National Blueberry Month. Bigelow Tea couldn't be happier to celebrate this scrumptious fruit! To help you enjoy the month, we have two recipes that would satisfy even the most blueberry-licious demands of Violet Beauregarde from Willy Wonka.   Enjoy our Raspberry Royale Tea Jelly with Blueberries and our Blueberry Herb Tea Smoothie!  You will love blueberry flavors and the taste of our teas!
Raspberry Royale Tea Jelly with Blueberries
Ingredients:
2 tbsp. cold water
2 tsp. unsweetened gelatin
1 cup boiling water
1 Bigelow Raspberry Royale Tea Bag
¼ cup white sugar
½ cup fresh blueberries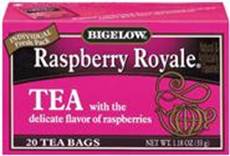 Instructions:
In a small bowl, sprinkle gelatin over 2 tablespoons of cold water – set aside.
In a medium bowl, steep the tea in the boiling water for 3 minutes.  Add the gelatin mixture and the sugar.  Stir until everything is completely dissolved.  Set aside to cool for at least 20 minutes.
Divide the blueberries among four ramekins or glasses and pour in just enough of the cooled jelly to reach the top.  Refrigerate until completely set, about 3 hours.  Serve chilled.
Recipe submitted by Lilica Brionn
Bigelow Recipe Contest 2011
Bigelow® Blueberry Herb Tea Smoothie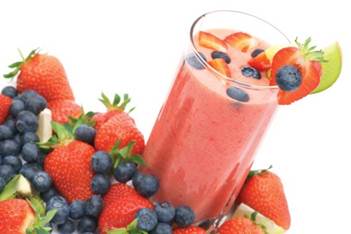 Ingredients:
3/4 cup hot water
6 Bigelow® Herbal Tea Bags: (Perfect Peach®, Red RaspberryTM, Chamomile Mango®, Pomegranate Pizzazz®, or Wild Blueberry with Acai Herb)
1 cup low-fat vanilla yogurt
1 cup frozen fruit (strawberries, mangos, raspberries, blueberries, or a combination)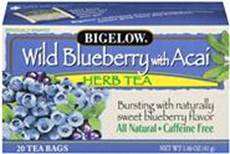 Instructions:
In a measuring cup, combine hot water and 6 tea bags of your flavor choice listed above. Allow to steep for 3-5 minutes. Remove tea bags.
Allow tea to cool, then place in the refrigerator until well chilled.
In a blender, combine the yogurt, frozen fruit, and ½ cup chilled tea. Puree until smooth.
Pour into glasses and serve with a straw.
Image 1 by Jimmy Joe via Flickr.com