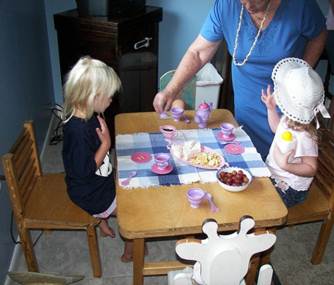 Even in today's high-tech world, grandparents still enjoy life's simple pleasures like bonding with their grandchildren, spending time with friends and loved ones, and even savoring a cup of tea. At Bigelow Tea, we recognize the valuable role grandparents play in our lives, and look forward to Grandparents Day on Sunday, September 9. Why not make this one extra-special by holding a family tea party?
Many hands, big and small, can get involved in party planning with grandparents. Whether your event is held outdoors or inside, as a buffet or sit-down meal, make the table special by using "real" linens, cloth napkins and pretty teacups. The littlest guests can help by putting together a centerpiece and then taking their seats alongside the guests of honor.
The party menu could include traditional tea sandwiches made with cucumbers or chicken salad. For a tea-inspired twist, consider preparing a Bigelow Tea-infused treat developed in our test kitchens, like our Perfect Peach Upside-Down Cake!
While the tea party is underway, don't forget to take tons of pictures. Photos of Grandma & Grandpa's special tea party will provide a lasting memory of an extraordinary day for generations to come. So, on Grandparents Day, we hope you'll brew up some Bigelow Tea—Orange & Spice perhaps?—and enjoy the company of your family!
Image by ClaraDon via Flickr.com