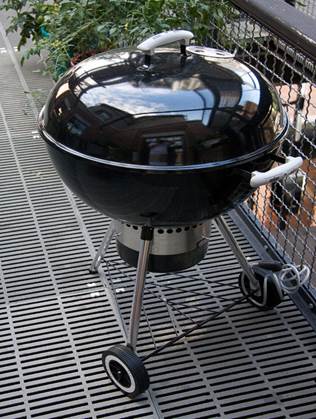 May is National BBQ Month, the opening salvo to the highly anticipated summer grilling season! Bigelow Tea and millions of home BBQ enthusiasts love BBQ, and it runs deep in our history.
BBQ seems to represent something fundamental for us; not only mouthwatering specialties but the gathering of friends and family on the patio, at the big game or at the family picnic. From Carolina BBQ to the regional styles of Texas and all across the country, the "Low and Slow" of BBQ is a big part of our life's celebrations.
In honor of National BBQ Month, Bigelow Tea is proud to offer two tea-infused specialties—a pork and a vegetarian option. It's all good for BBQ Month!
Grilled Pork Tenderloin with Bigelow Tea Glaze And Seasonal Vegetables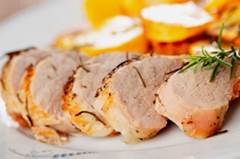 Recipe Created by Joy Marr
Ingredients:
PORK TENDERLOIN:
5 cups boiling water
4 Bigelow Green Tea with Mango Tea bags
4 Bigelow Green Tea with Peach Tea bags
4 Bigelow Green Tea with Pomegranate Tea bags
1.2-1.5 lb. Pork Tenderloin whole
1 clove garlic, smashed
½ small yellow onion cut into in wedges
1 tablespoon vegetable oil (use only if oven baking tenderloin)
2 tablespoons Balsamic Vinegar (can substitute cider vinegar)
1 tablespoon honey (can substitute brown sugar)
1 tablespoon veg. oil
¼ teaspoon dried thyme
¼ teaspoons of both Salt and pepper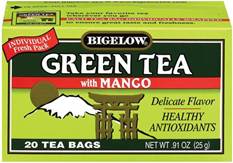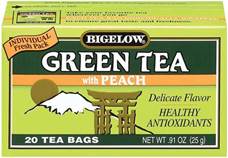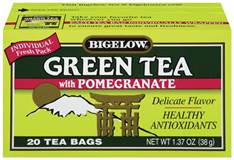 Instructions:
Bring 5 cups of water to a boil and add the Bigelow Tea bags, the clove of garlic and the onion wedges. Remove from heat and cover – let steep for 20-30 minutes. Remove tea bags squeezing well and discard, along with the garlic and onion. Divide the tea mixture -set aside 2 cups for the glaze to the remaining 3 cups add the vinegar, honey, oil, thyme and salt and pepper- stir. This will be the marinade for the pork.
Once the marinade tea has cooled down somewhat, pour into a large plastic bag; add pork tenderloin and marinate for 5 hours or overnight in refrigerator. While pork marinates make the glaze and ready your vegetables both can be set aside or refrigerated covered overnight.
Heat your grill to medium; while grill is heating drain tenderloin from marinade -discard marinade- and wipe loin dry, set aside. Pour 1/2 cup of the reserved tea glaze into a small vessel you can work out of. Place pork on grill. Cook for 8-10 minutes on medium. Open grill and brush liberally with tea glaze. Reduce grill to low, continue to cook pork over the next 8-10 minutes, turning pork and coating well with glaze, 2 or 3 more times, until thermometer reads 160′. Remove from heat and let rest for 8-10 minutes. Slice into medallions and serve with glazed vegetables.
INSTRUCTIONS FOR OVEN BAKING PORK
Prep time approx. 10 minutes
Oven time 20 minutes
Preheat oven to 325°F. Heat oil in a large oven-proof skillet over medium-high heat. While pan is heating, drain tenderloin from marinade -discard marinade- and wipe loin dry. Carefully add tenderloin to hot pan and cook, turning until brown on all sides, 5-6 minutes. Baste liberally with tea glaze and place skillet with pork in oven and bake for 8 minutes. Open oven and baste liberally with tea glaze again. Continue to cook until thermometer reads 160′, about 12-15 minutes, basting pork again when you remove it from the oven. Transfer pork tenderloin to platter and let rest for 8-10 minutes. Slice into medallions and serve with glazed vegetables.
Yield: Serves 4
TEA GLAZE
2 cups reserved Bigelow Tea mixture
3 tablespoons honey
½ teaspoon black pepper
Pinch of salt
Bring remaining 2 cups of tea mixture to a simmer over med-high heat and cook to reduce. After 45 minutes or so, check it you want to have about 1 cup no less. Add honey, salt and pepper and set aside for later or refrigerate overnight.
SEASONAL VEGETABLES WITH BIGELOW TEA GLAZE
1 medium Acorn squash
2 medium carrots, peeled
2 medium Parsnips peeled (can substitute yellow onions)
2 tablespoons butter, salted
½ cup reserved tea glaze
Heat the oven to 400′. Place the butter in an oven proof pan and put in oven to melt while oven pre- heats. Cut the carrots and parsnips on the diagonal into 2″ pieces. Slice the acorn squash into rings 1″ thick rings-then cut in half. Remove the pan from the oven – place all the vegetables in pan and carefully toss with butter to coat. Bake for 10 minutes. Open oven and pour the tea glaze over the vegetables, stirring well to coat. Continue to bake until vegetable are tender- and can be pierced by a small knife point, approximately 15-20 minutes.
Yield: Serves 4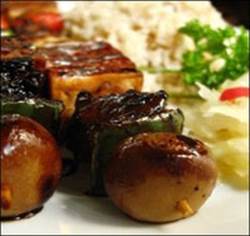 Ingredients:
8 – 6 inch wooden skewers
1 – 14 oz. package extra firm tofu
3 Bigelow® Green Tea with Pomegranate Tea Bags
3 Bigelow® Earl Grey Tea Bags
2 cups hot water
½ teaspoon salt, plus additional for sprinkling
1 tablespoon honey
1 medium zucchini, cut into 1 inch rounds
8 Baby Bella mushrooms, cleaned (about 8 oz.)
2 tablespoons canola oil (for brushing)
Non-stick grill spray
Yield: Serves 4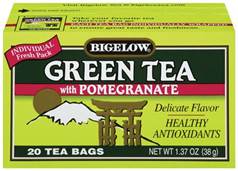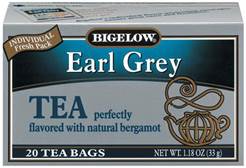 Instructions:
Tofu is a great vegetarian, low-calorie alternative for your grill, and marinating it in tea gives it great flavor and color. A touch of honey adds sweetness and helps to create a beautiful grill marks as it caramelizes.
First, set wooden skewers in water and allow to soak for approximately 30 minutes.
Next, sandwich the block of tofu between two plates lined with a few layers of paper towels. Place something heavy on top plate (like a can) so tofu can drain for 10-15 minutes.
In large bowl, combine hot water and tea bags and steep for 5-7 minutes.
Squeeze out tea bags into bowl, remove, and add salt and honey to tea. Stir until honey is dissolved.
Cut tofu into 1 inch cubes, and add to bowl. Set aside to marinate for 15 minutes.
Thread 2-3 cubes of tofu and 2-3 pieces of vegetables onto each soaked skewer, being careful not to pack the skewers too tightly. Brush each skewer with canola oil and season with a pinch of salt.
Spray a gas grill with non-stick grill spray and preheat to medium-high. Place skewers on grill, and cook for approximately 2-3 minutes per side, until grill marks appear and tofu begins to form a nicely colored crust.
Note: be very gentle when turning skewers (use a grill spatula), as the tofu is delicate.
Remove from grill and serve hot.
Image by ckelly via Flickr.com