Do you ever catch yourself reminiscing about special moments over a cup of tea? At Bigelow Tea, we love hearing your stories. That's why we want you to share your favorite "Constant Comment" tea story for a chance to win a trip to our very own Charleston Tea Plantation.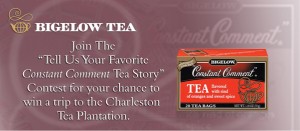 Orange rind and spice and everything nice!
By December 31, 2008, enter your story in the "Tell us your favorite 'Constant Comment®' tea" Contest. The stories that make us laugh or cry the hardest will win!
To All "Constant Comment" Tea Fans,

It is funny, everywhere I go, people like to tell me their favorite memory wrapped around drinking "Constant Comment" tea. The stories usually involve a person sitting around a table with a loved one and having a moment together while sharing a cup. Even the person's body language changes when they start telling me about their past experience with this special tea. That is how we got the idea that it would be great to invite all of you to share with us your own "Constant Comment" story. Lets rekindle some of those warm moments in your past and bring back some of the beautiful heritage of this unique tea created by my grandmother in her kitchen.

Please enter our "Tell us your favorite 'Constant Comment®' tea" during November and December 2008. The stories that either makes everyone laugh or cry the hardest wins a wonderful trip to visit our Tea Plantation in Charleston South Carolina. So take a moment for yourself, sit back, reflect and tell us your favorite story around drinking a warm cup of "Constant Comment" Tea. Cheers to "Constant Comment"

With warmest regards,
Cindi Bigelow
President and Granddaughter of founder, Ruth Campbell Bigelow.
Contest Rules
No purchase necessary.
Stories must be original and unpublished. Must be the work of the contest entrant.
100-word minimum, 500-word maximum.
Stories are to be emailed to contest@bigelowtea.com and the story must be included in the body of the email. Stories sent as email attachments will not be accepted.
You may enter multiple stories, but only one of your stories can be included among the winners.
Story emails must be received by December 31st 2008.
Contest open to legal residents of the United States. Employees and consultants of Bigelow Tea are not eligible.
You agree to adhere to these rules and the judges decisions.
Winners will be announced no later than 60 days after contest ends.
Winners will be notified by email.
Winning stories will be used without limitation on www.bigelowtea.com and/or www.bigelowteablog.com.
Prizes are nontransferable.
Void where prohibited. All federal, state and local laws and regulations apply.