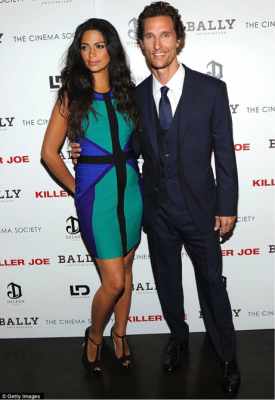 Movie watchers are buzzing about actor Matthew McConaughey's suddenly shrinking physique. Don't be alarmed Magic Mike fans! The athletic star says he is losing weight on purpose for yet another film role. Bigelow Tea is happy to hear Matthew telling interviewers that he is losing the weight slowly and sensibly – and that he's drinking lots of tea!
We applaud Matthew's commitment to his craft and for setting a good example for healthful eating and living. He has been making the talk show rounds this summer to promote his latest film, Killer Joe. Appearing on Larry King Now, Matthew said he has lost 15 pounds and intends to shed 15 more by mid-September, when he begins shooting for The Dallas Buyers Club.  In that film, he'll be playing a man who contracts HIV. "It's a bit of a spiritual cleanse, mental cleanse," says McConaughey. "[I'm] drinking a lot of tea."
It's great to see a star we've enjoyed in lighthearted romantic comedies take on grittier and more challenging roles. So, to Matthew, we say, "stay strong," … and we hope he'll partake in the many varieties of Bigelow Tea while he's on his artistic journey!
Photo via The Daily Mail