A Gift Featuring Bigelow Tea And Honey: The Perfect Pair!
Wednesday, 28 August 2013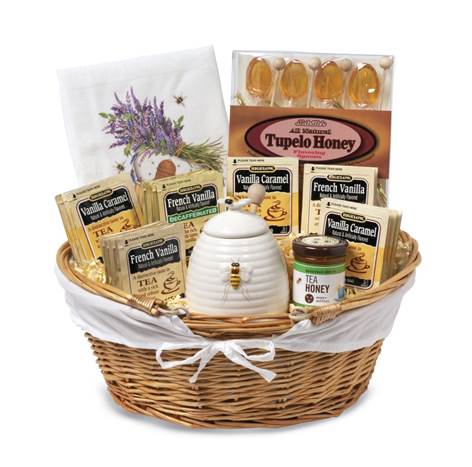 Bigelow Tea and honey is a sweet combination anytime—and makes the ideal gift for someone special. Our Tea and Honey Basket includes a delicious assortment of vanilla flavored teas, natural honey and a few little extras to perk up your lucky gift recipient's teatime ritual!
We have previously celebrated the amazing honeybee for its pollinating powers and ability to produce different types of honey, so we're delighted to give it a starring role in this gift basket. Did you know that bees have been producing honey for at least 150 million years?  These busy bees must visit approximately 2 million flowers to make one pound of honey—a feat that requires them to fly over 55,000 miles! Tea lovers are certainly thankful for such dedication to sweetness!
Each Tea and Honey Basket contains the following:
Hive-shaped ceramic honey pot
100 percent cotton flower sack towel
8 Orange Honey Spoons set
3 oz jar all-natural Tea Honey
48 individually wrapped Bigelow Tea bags
What a great way to enjoy the natural goodness of tea and honey … the perfect pairing. Treat someone —or yourself—today!