Butterflies And Bigelow Tea Make A Perfectly Peaceful Combination
Wednesday, 11 July 2012 by Roni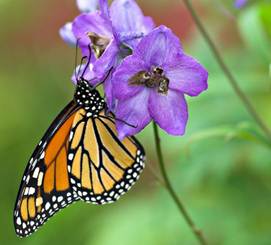 Remember as a young child seeing a butterfly in your garden floating among the exquisite rainbow of flowers surrounding it? It's a gorgeous image of summer that evokes thoughts of peacefulness and serenity. We at Bigelow Tea adore the idea of sipping tea in a garden while watching butterflies flit by! And that's where we got the inspiration for our Butterfly Tea Wallets!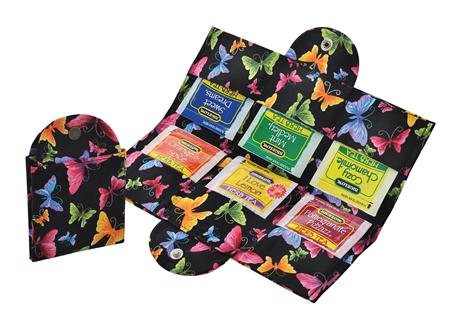 These useful tea carriers are colorful—just like the butterflies that inspired them!— and seriously handy! You can choose either the Butterfly Tea Wallet With Flavored Black Tea or the Butterfly Tea Wallet With Herb Teas. Each has the same attractive design and features six pockets for your favorite teas … plus a starter set of 18 individually wrapped teas to enjoy on the go! The six black tea flavors include Constant Comment, Earl Grey and Lemon Lift. And the herbal assortment contains six flavors like Mint Medley and Orange & Spice.
And if butterflies really are your thing, it's actually quite easy to create a beautiful butterfly garden!  All you need are the right plants to attract them, like some Black-Eyed Susans, lilies, or an aptly-named butterfly bush.  Plant a few fabulous flora and you'll be well on your way to that ideal peaceful spot to pour some of our most tranquil teas!
The best news is that, with a tea wallet, you can enjoy your Bigelow Tea anywhere and everywhere … even amongst the butterflies in your garden!
Image by Chefranden via Flicker.com