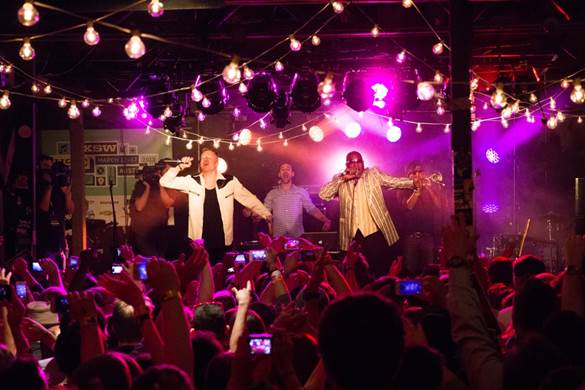 Macklemore & Ryan Lewis at SXSW 2013
Trending right now: people are heading to Austin, Texas for the SXSW music, film, and interactive festivals. Get ready for ten exciting but potentially exhausting days of entertainment and #selfies galore … and remember to keep a snack on hand and stay hydrated with Bigelow Tea. It'll keep the mood light and your voice pitch perfect for rockin' with your favorite artists!
Don't forget your to-go mug or tumbler for those long waits. Bigelow Tea bags easily slip into your pocket for the festival, so all you need to do is #JustAddHotWater and perhaps ice. If you're looking to save money during your SXSW stay, this is the way to go.
One tea lover, @IHEARDISSUE, tweeted "I'm bringing 200 liters of tea to sxsw." Now that would be a lot of Bigelow Tea! Can't wait to see that #selfie.
Top image by Dinesh Shankar via SXSW Press Images