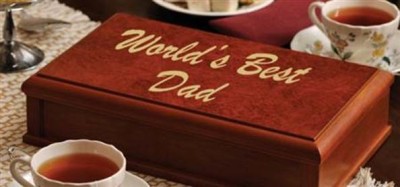 Father's Day is coming up on Sunday, June 16th.  And for a man who does his best for his family, and deserves nothing but the best in return, let's go beyond neckties. In fact, Bigelow Tea has the perfect gift for all dads who enjoy a fine cup of tea or a sentimental "tea" token of appreciation!
Our "World's Best Dad Tea Chest with Assorted Caffeine Free Herb Teas" takes this title to another level, tastefully. Priced at $49.95, this beautifully crafted, hinged wooden chest holds 64 tea bags of eight different Bigelow Teas. Inside this chest Dad will find some of his favorites—like Cozy Chamomile—and quite possibly some new tastes he hasn't tried, such as our delightful Orange & Spice herbal tea.
For first-time fathers or long-time pros, our tea chest is also a personal keepsake. Its burled top and light walnut finish is engraved with lettering that he will treasure for years to come. Plus, Dad can restock his gift box with any Bigelow Tea of his choosing, like maybe Earl Grey or English Teatime.
So, with this great gift on Father's Day, we raise our cups to all fathers and thank them for all they do every day of the year!
Top image by uzi978 via Flickr.com